Tweet (https://twitter

NULL

.com/share)
Breading The Dentist
By Kalyn
"I have a shitzu being delivered to my office here anytime," my cousin said as he worked on his mother-in-law's tee
th. "because we've decided that we want to specialize in shitzus and polmoranians."
Later at lunch we sit with his family, my dad, his wife and my daughter. After having told me the story of how he being a dog-breader fell in his lap, he tells us all that in school he had wanted to be an engineer. At the time, circumstances, like the economy, seemed to indicate that this would be a bad choice. The wiser choice appeared to be joining his father in sharing a dental office, though he wasn't passionate about dentistry. S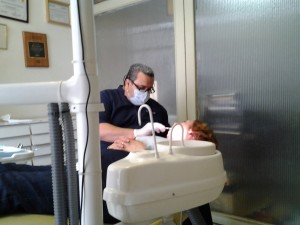 o, the second Avila dentist joined the ranks.
"So here I am," says my cousin, "telling you that one should do what they love. We love dogs and we love breading them."
"True, because you end up doing it ALL the time!" I agree. "How many dogs do you have?"
"Forty-five- no, forty-six now! We're looking for a bigger place because we'd like to grow the business even more."
The Spiritual Thing To Do Is To Not-Always To Follow Your Happies
Here's the thing: sometimes following your passion is what you should do. Sometimes it is the spiritual thing and it is the guidance from your Source Energy as to what will take care of you and fullfil you.
Othertimes, it's not. Logically speaking, if everyone who wanted to become a singer, play in a band, be an artist or such, became this then the world would be devoid of diversity. This means, logically speaking, that either the world can be filled with artists and other popular professions or people aren't always in touch with their authentic passions. After all, didn't we all want to be princesses and police officers when we were six? And didn't this change ten times before we were seven?
Source's Plan For Our Lives
Speaking of Source Energy's plan for us is cryptic because it is a part of a greater unknown that we catch glimpses of when we are fortunate and in an authentic place of connection. Sometimes the direction we'd like to see our lives go in, even when we think it is our deep desire and try to visualize and vibrate into existance, just never happens. Contrary to so many messages on Facebook, positive things don't always happen to positive people and our  version of our dreams aren't always arond the corner awaiting us. If you can sense energy then you find that, no matter how much you want or desire something, sometimes the energy for it is not available to you. While many teach that you have to find the vibration and bring it into your life, you can't find what's not there for you. You can't go against your Source's plan for you, as your Source is far greater a creater of your life.
My cousin had thought he'd wanted one thing, picked another and then a truer calling landed in his lap. It is common to hear people tell stories about what has landed before them, which only occurs to peole who are open to something other than one dream. For many of us, it is difficult to know when we are stuck in a childhood or less evolve dream and to recognize that this dream would not truly make us happy. It's also basically impossible to understand that our Source Energy has a larger and more suited dream in mind for us.
Align To The Breeder Within
Whether breading dogs, being a dentist or an artist are what land in your lap, it is important not to dismiss the gift that life and your Source Energy is bringing you. Life can be simple when you choose to allow life to be as it is. Alignig to what comes can often surpass our wildest dreams. It requires us to let go of how we think things should be, inclduing letting go of thinking that the dream we have initially chosen is the one we must receive. Happiness is a state of being in which we are feeling the love our Source Energy has for us. When we allow life and allow ourselves to feel this love then all will come to us.